If pressing that 'Apply now' button seems daunting, just know that it comes with zero commitments. Let us show you how the Codecool application process goes and why it's so important.
Our application process is like a compass. It's there if you want to get in touch with questions or concerns (since there's no commitment to applying).
And it helps to assess your skills too! If you have doubts about becoming a coder, know that we'll be there to help you decide.
Read on, and we'll show everything you need to know about the process that helped to kick-start so many new digital careers.
The Codecool application process
What's our application process like?
We've designed it to be short and to the point.
On the one hand, the aim is to get to know each other better. We can catch a glimpse into your personality and drive to become a coder. And you can get to know our school and us a lot better.
On the other hand, you can learn if you'd really be a good fit for Codecool. Our training is quite demanding, so it's better to be prepared head-on.
Now let's see it all in more detail:
What do we mean by zero commitment?
The application process comes with zero commitment on your part. You are invited to enter the process even if you are just interested in Codecool and want to learn more.
In fact, you make no commitment until you decide to sign a contract with us – which comes much later in the process.
Also, you can stop or ask a question anywhere in the process. We are happy to call you back anytime you want to chat about something.
Plus, we made the whole process short (90 minutes altogether).
But what happens right after you hit that button?
These are the steps in our application process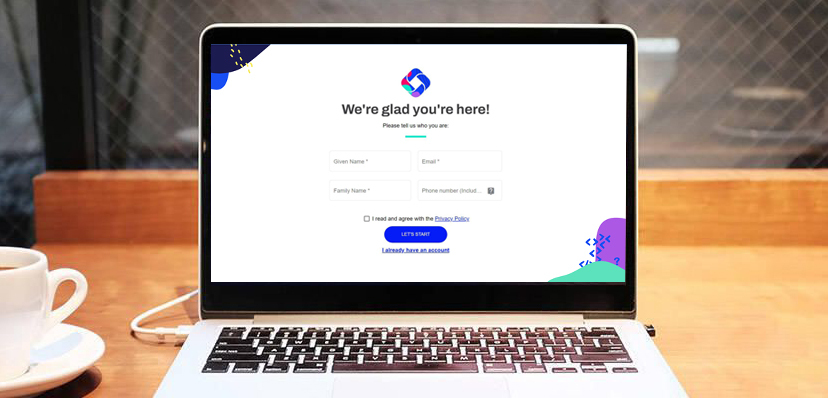 1. You enter some basic data
When you hit "Start the application," you will first see a screen where we ask you to give us your name, email address, and phone number. And that's all.
Why?
So that we know where to reach you.
Next, you will select the course you are interested in from those that start soon.
Not sure which one to choose? Request a callback, and discuss it with our colleague.
Interested in more than one course? If full-stack full-time is one of them, pick that one. If not, choose the longest you like, and hit continue.
3. You answer some quick questions
Then you will see a screen with a few basic questions.
These will help us get to know you better and decide if you meet the basic requirements. 
For example, you need to be over 18. And we also ask you to consider the length of the course here. Are you available for multiple months? Is the starting date ok for you?
We'll ask basic stuff like this, and this whole process will take only a couple minutes of your time.
The last thing to do here is to book an interview with our colleague.
Next: interview time!
4. We're going to have a chat!
The interview will be a 30-minute chat with our colleague.
We'll focus on your interests, your motivation to join us, your strengths and weaknesses, and your English skills.
It's only natural to have a ton of questions at this point in the process. So we'll set aside some time to discuss whatever's on your mind.
One more thing: you're done here in the case of shorter courses, and you will receive an email from us in a few days about whether your application was successful. You have an extra step for the Full-Stack Development course: we ask you to do a logic test.
5. Wanna go full-stack? Test yourself!
In the case of our Full-Stack Development course, the last step in the application process is to take a quick logic test.
We want to check how you think and test your logic and analytic skills. 
The reason is that our full-stack course is a demanding training program – with excellent results, of course. But one thing we don't want is for you to stop learning with us because of the challenging nature of the course. So we will try to test your capabilities and prepare you as soon as possible.
---
Ready to start your coding journey?
Maybe you needed a little push to start your new journey. Just know that we'll be with you every step of the way!
If you want to go straigh ahead and apply, just hit the button in the top row of our webpage.
If you first want to know more about our courses, you can find many resources to get a full picture.
Don't forget to reach out if you have anything on your mind. You can reach us via mail or chat.
Hope to talk to you soon!