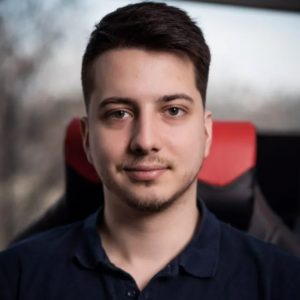 Levente Réti finished our Full-Stack Development Course in 2019, and despite being only 23 years old, he has been working as a software developer for 2 years. Currently, he's a developer at META-INF, the first partner company of Atlassian products in Europe.
Find out why Levi choose Codecool right after high school, what kind of expectations tech companies have towards juniors, and read many exciting details about a young software developer's life. Stay tuned!
Hi Levi, nice to meet you! What is your job like now? How should we imagine your usual workday?
After Codecool, I started working at META-INF. Currently, I am working in a team of nine as a full-stack software developer.
On an average workday, I start with a meeting at 9:30; then, I check our team's board. I see what I can do on a given day and who I can help if they are stuck with an issue. Of course, there are always ad hoc design meetings regarding the current development projects.
Besides the morning meetings and a weekly check-up, I have no fixed activities, so I'm free to proceed with my tasks the way I want.
What do you like about your job? What are the opportunities for improvement?
At META-INF we are constantly working on developing new, unique products, so copying previous codes from other projects doesn't happen. We are continually developing different features, so there are new and exciting challenges in my daily job all the time.
Initially, I was hired as a Support Engineer, but after an incredibly detailed, customised development plan in the past two years, I became a full-stack developer. Through this process, I received tons of support from the management and my colleagues, which was an incredibly positive experience for me.
Why did you choose an IT career, and why did you decide to kick-start it with Codecool?
I have been interested in computers since my childhood, and in addition to that, IT is quite a flexible profession. I only need a laptop and internet connection, nothing else, and I can accomplish my tasks from anywhere in the world.
For a long time, I did not know how to enter IT, or how I could start learning at all. I heard from various sources that mathematics and other academic subjects taught at universities are not relevant for the developer's job. However, you still need to spend a ton of time on them.
Ultimately, I chose Codecool because of the length of the Full-Stack Development Course. Throughout the course, there is plenty of time to practice, and the gathered knowledge can sink in. Besides this, at Codecool you have the opportunity to progress at your own pace, and you can deal with specific materials or projects for a longer time, which helps avoid blurring all the new knowledge together.
Instead of university, you immediately started to learn at Codecool after high school. Do you have any regrets?
I often get this question, but no, I have no regrets at all. I am only 23 years old, but I can declare without hesitation that Codecool was the best decision of my life.
If I had chosen university back then, I would have gotten my degree by now, and I would be just starting to look for a job without any practical experience. By contrast, I finished the course within a year. Throughout the individual and group projects, I gained valuable knowledge, and thanks to the job guarantee, I have been able to work as a developer for two years now. These are significant advantages for me.
In your opinion, do people need university to become good tech professionals? Have you ever felt that it is a disadvantage that you do not have a degree?
I think IT is a profession where the academic knowledge taught at universities is not enough. In this field, everything changes fast; innovative technologies and programming languages are emerging all the time. So you constantly need to train yourself. If you cannot keep up, you simply pass things by, and you start to lag behind.
Thanks to the job guarantee, I found a job, and I never felt any disadvantage because I do not have a degree. Most companies are interested in what you know in practice, not what you have a paper of.
In your experience, what is essential for companies nowadays, and what are their expectations regarding junior colleagues?
I think the most important things they expect from juniors are openness, the pursuit of knowledge and willingness to act. These are more important than knowing a programming language at a certain level. If you have these qualities, you can learn anything, and companies are aware of that. Companies altogether look for good team players, not lonely "superstars". Codecool's courses prepare students for precisely that.
Do you feel you can take advantage of the things you learned at Codecool?
Absolutely. Besides the evident hard skills (the technological knowledge), the soft skill workshops proved extremely useful. The assertive communication workshop was the best because I can use the things I learned there in my job and everyday life.
What did you find best at Codecool?
Codecool was the most defining experience of my life, regarding my career and outlook on life. I liked the close-knit community the best. I could ask for help from anyone, and there was always someone I could involve in the process while solving a specific problem.
What was the biggest challenge for you, and why?
Being an adult meant the most significant challenge after finishing high school since I moved because of Codecool. After the course, when I started working, it was hard to concentrate at the beginning because of the situation that the pandemic caused.
What are your plans?
I plan to stay at my current job for a couple of years because I enjoy it, and the management constantly supports my professional development.
What comes after? Who knows… I do not plan so ahead yet.
What would you say to those who are considering their application to Codecool? Do you have any tips and tricks for them?
If you are worried about whether the school or programming is your cup of tea, skip the guesswork and click the "Apply now" button, because during the application process it will turn out if you are a suitable candidate for the school.
If you start Codecool immediately after high school, you'll probably be the youngest student, and later on, you will be the youngest colleague at your workplace, but do not let this discourage you! Raise your voice, do not keep your ideas to yourself. You will be surprised to see that people listen to you, even when they are older than you. 🙂
---
Did you find Levi's story inspiring?
If you'd like to learn to code, but you don't have 3–5 years for university, or you are tired of traditional education: Codecool is waiting for you. Experience the Codecool vibe and get your dream tech job in just 10 months!

Choose our job guarantee and post-payment option for an easier path to a flexible tech job with a nice salary.

If you're interested, click on the "Apply now" button because you have nothing to lose! The application process is quite easy, there are only a few steps in it, and it can help you decide if coding is the right path for you.