Martin Veznik (42), a theoretical physicist, has always been passionate about the tech industry. To stand out from the competition in the job market, he decided to learn programming in-depth and become a software developer. Read on and get to know Martin and his story!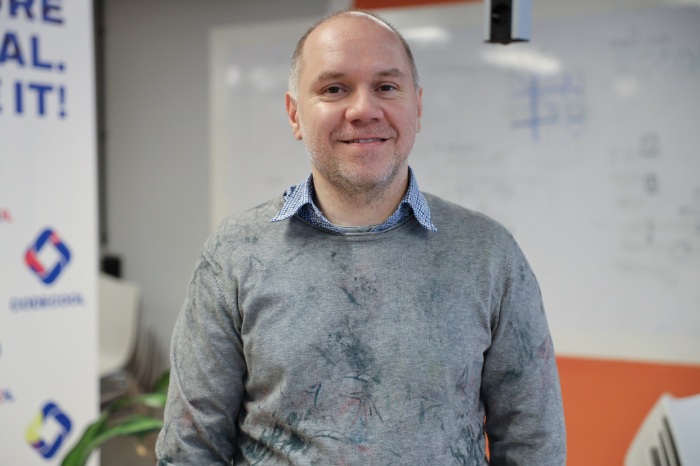 Why did you choose Codecool?
So a month before I applied, I attended the Intro to Coding course, and I got to know the Codecool teaching method, which I liked a lot from the beginning. The drive behind my wanting to learn to code was to increase my chances in the job market. I really appreciated the Codecool method's focus on soft skills, like teamwork and presentation, next to hard skills and technologies.
What is your current experience with Codecool?
I find the Full-Stack Development course interesting, and in terms of intensity, it's just right. It's not too much and not too little. There are also breaks, and you are not overwhelmed, but I'm sure it will get more intense over time. The atmosphere is excellent, and the teammates are likable and diverse. They all come from different professional fields and vary in age, which is fantastic. The mentors are amazing as well; you can tell that they all care about providing quality teaching and really enjoy what they do.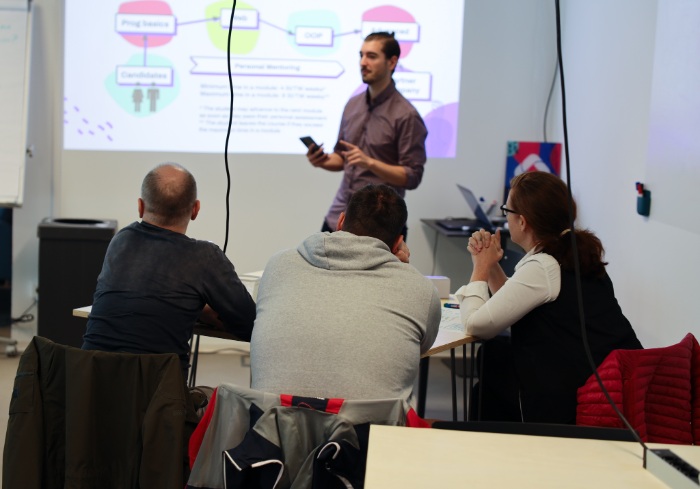 Has anything surprised you so far? Is there anything you imagined to be different?
Not necessarily, since I have already taken Intro to IT, and I learned the basic principles there, like the growth mindset. The topics surprised me sometimes, but ultimately, this was also a reason why I wanted to take the course.
What is your professional background?
I studied physics at the University of Vienna and am a physicist. If the full-stack course was similar to a typical university class, i.e., frontal teaching, I probably would have chosen it anyway. Still, my motivation would not have been that great.
Why did you decide to take a new career path?
Well, pursuing an academic career is quite tricky and risky. You have to be flexible, and there are many more people looking for jobs than open positions. Plus, I'm a theoretical physicist, not an engineer. Most job ads gave me the impression that companies were looking for engineers. Since I gained experience in IT during and after my studies, and most of my physicist colleagues have also switched to this industry, I decided to make IT my main job. That's why I started to educate myself with online courses, which eventually led me to Codecool's Full Stack Development course.
What do you like best about Codecool?
I would say working in a team. It connects people, and there is a greater sense of community. The relationship with mentors is also tight. You might have something similar at university when you do a master's or later a Ph.D., but before that, it's unthinkable; you can't compare Codecool to a university.
What do you plan to do after you graduate from Codecool?
I want to work somewhere in IT, but I'm not making any strict plans yet. The area I know best at the moment is data, so maybe data analysis. I think I will definitely know better in a year, and therefore I am relatively open to all possibilities now. What's important is that I feel comfortable in the area where I work.
What advice would you give to people who want to apply to Codecool?
Future Codecoolers should have an affinity for IT, not just the goal to become a developer because it's "trendy" at the moment. Applicants should like the topics, and the industry, and they should also like teamwork. Social interaction is very important here at Codecool.
If you're like Martin and want to deepen your coding knowledge, our Full Stack Development course (on campus, online or part-time) might be just what you've been looking for…
Feel free to share the post via...