Laci Szőcs graduated from our training in 2020 and studied at Codecool in the state-funded Codecool course, the 'Újratervezés Program.' With this, he changed his profession after 20 years, and at 40, he is now working at AGCO as a DevOps Specialist. We spoke to him about his Codecool experience and this exciting turn of events in his life.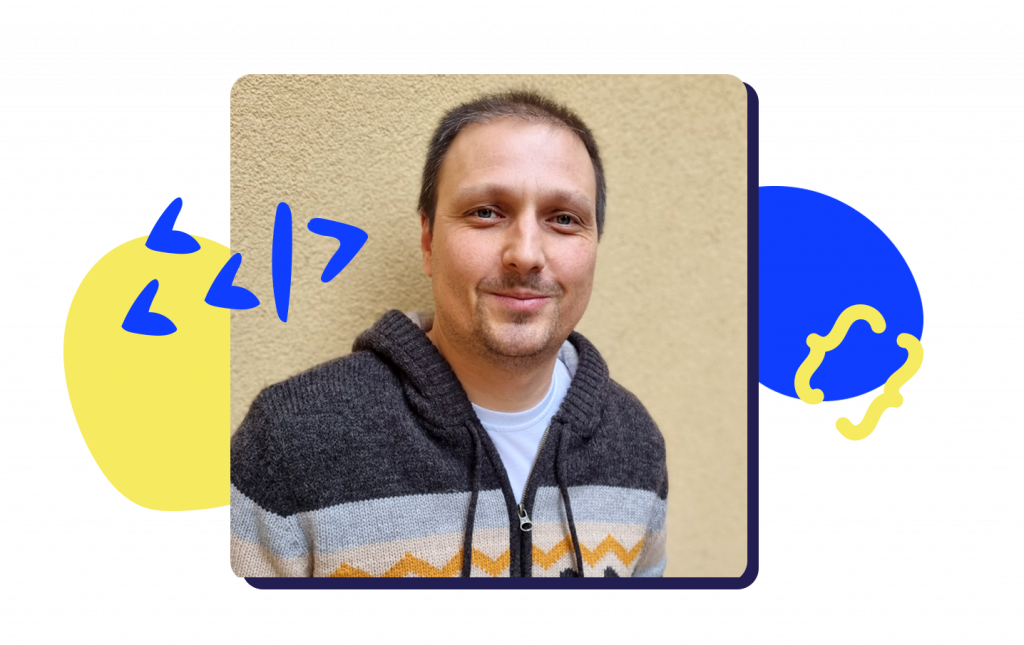 Hi Laci! It's great to meet you. What's your current job and position?
I'm currently working at AGCO as a DevOps specialist, specifically working on Identity & Access Management. I've been here since November 2021, and it's my second job since completing the Codecool training.
In my previous job, I worked with cloud operations, but now I focus on authentication and authorization. Identity & Access Management involves managing user permissions for our company's internal system.
What's your experience been like with the company so far? Do you enjoy your job?
Laci: I enjoy working at AGCO, and my team is great. I'm happy that I managed to land this job. Although there are difficult days, my work-life balance is much better compared to my previous job in the hospitality industry. I work from home 100% of the time, contributing to a better balance. Also, I work eight hours a day, unlike before, when it was challenging to have a consistent schedule.
Can you describe what a typical day or week looks like for you?
I have fixed hours, but I have a lot of autonomy in how I allocate my time and decide what work I'm doing at any given time. I feel that AGCO trusts its employees to manage their schedules.
What motivated you to change careers?
Many factors led me to pursue a career change. For one, I knew I couldn't work in hospitality forever; it was time for a change. The COVID-19 pandemic gave me the final push to switch careers, as the hospitality industry was badly affected during those times. Although changing careers was an uncertain move, I was confident it was the right decision.
You started learning to code on your own. Why did you feel that you needed support to progress further?
Teaching myself Python in 2020 was part of my decision to pursue a career in tech. Then I heard about the Codecool program, and it was a no-brainer for me to take advantage of the opportunity. Without COVID-19, it would have taken me much longer to get to the level of knowledge I gained in a short period of time through the program.
What was your experience with the state-funded 'Újratervezés program' at Codecool?
The program covered a lot of ground and included many topics. Then, at Codecool, I received more specialized training that helped me land a job. The curriculum was very intensive and put a strong emphasis on hard skills. However, the most valuable part of the experience was working with different teams every week, which gave me exposure to a range of experiences and work styles.
Do you use what you learned at Codecool in your current job?
Laci: Absolutely! For example, I use Linux daily, and I also work with AWS for cloud hosting. Codecool's intensive training and focus on hard skills were instrumental in preparing me for my current job.
What was the job search process like after completing the training?
I sent out many applications for different jobs and went through several rounds of interviews before landing my first job. It was challenging, but having Codecool on my CV was a big plus. Many companies took it into consideration, and it helped me stand out as a candidate.
What was the most positive aspect of your experience with Codecool?
I would mention the mentors who were very helpful. I liked that they never gave me an explicit solution but always made me find them independently. That was very good.
It helped me to learn to use the resources available; for example, if I found a command that looked good and could work, I was encouraged to dare to try. I liked this method. And, of course, I have applied it very well in my work ever since.
What was the biggest challenge for you?
I saw everything as a problem to be overcome, so there was nothing specifically in the curriculum that I experienced as a big difficulty or challenge.
What do you recommend for those who are hesitating about whether to start Codecool?
To stop hesitating and get started as soon as possible. The flow will take them afterward. The days of learning go by fast. There's an awful lot going on in a training week at the school. Soon they'll realize they're done with the training and have already found a job.
A lot of time can be spent procrastinating. But, if you can start, I think you should do it because the time and energy invested will pay off very quickly, including financially.
Do you consider this training to be worthwhile?
Absolutely! If I break down my future into ten years, that's not a lot of a lifetime, and I've managed to get to a good place in 2 years. If I could achieve that in just two years, what will happen in six or eight years?