Full-Stack Development Course
The only programming course you'll ever need.
You can start the course without any previous programming experience or knowledge. In 10 months, you'll be a pro developer and we'll find you a guaranteed job at one of our 300+ partner companies.
As a full-stack software developer, you'll not only understand a single programming language, but you'll have a comprehensive understanding of the entire development process.
You'll have a system approach that'll allow you to improve further and work confidently in all the different areas of software development.
Is full-stack development for me?
Find out how much our Full-Stack Development Course would suit you by completing a short quiz or by joining our 2 days-long Intro to Coding workshop!
Set your own pace! We teach the same curriculum on every course schedule. Our courses start approximately every 2nd week.
The 10-month full-stack training curriculum is based on the needs of our partner companies and the IT industry in general. We'll prepare you for your new career through practical, lifelike projects.
In comparison to a university, at Codecool you'll work on lifelike projects from day one. You'll learn how to work well in a team, how to give and receive feedback, and it'll improve your presentation skills and even more soft skills that are already essential in a modern work environment.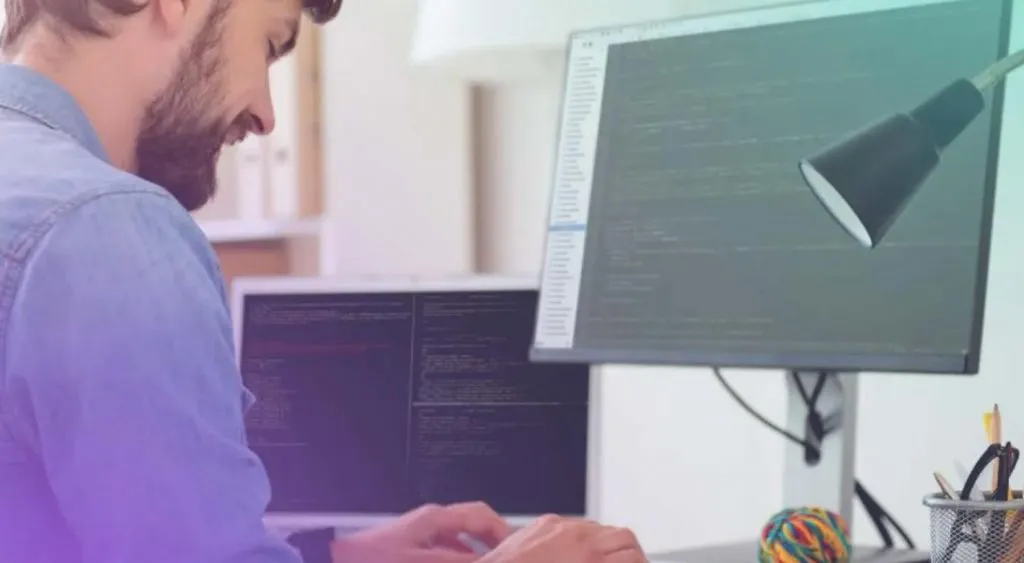 We guarantee that we'll find you a job at one of our 300+ partner companies after you successfully complete our training.
County specific info can be added here, if apply
We've found the first IT job for 98% of our 2000+ graduated Codecoolers.
In case we don't find you a job for 6 months after the course, you don't have to pay tuition fees.
How much am I going to earn?
After you finish the course you can expect to earn X AMOUNT which will likely grow to Y AMOUNT in just two years. And your pay grade will continue to rise afterwards.
Tuition and financial support
You can pay for the course only later in monthly instalments, when you're earning a nice salary at the tech job that you've found with our help.
We only ask for a one-time registration fee (X AMOUNT) for the first 10 weeks of the course. So you'll only have to commit to pay the complete tuition fee when you're a 100% sure that you've found the best programming course for you.
PLEASE ADD COUNTRY SPECIFIC DETAILS HERE LIKE "You can apply for our CoderGirl Scholarship or take a student loan to support your studies."

Place for SALE or prize draw infos
Add copy in only a few sentences, and in the popup you can add all the further details
Tuition fee payment methods
What's a tipical day like?
Individual and group-oriented learning
On a typical day, you'll be solving tasks individually or in a group on our unique study interface. It's where you'll find all the study materials, tips and tricks needed to complete the tasks. If you encounter a problem, you'll always have your mentors to help you through challenges.
Mentors at Codecool are all tech professionals with heaps of work experience. They'll be your guides and coaches while you study at Codecool – but you'll own your own learning journey all the way.
Got more questions? Come to one of our open days!
Come to an open day event, get to know us and ask any questions you might have about the Full-Stack Development Course!
1056 Budapest, Nagymező utca 40.
Our graduated students said​:
"I used to study as a graphic designer but I didn't feel challenged. Codecool only taught us what we will really needed and use, while getting a ton of support from our mentors. Now I see a new path ahead of me, and it's a path where I can really progress."
"I like the energetic atmosphere at Codecool. The mentors are there to help you all day long, even for private mentoring. The mixture of self-instructed and mentor-supported studying is far better than at public schools. Here you know that you study for your future, and what you learn has value on the market as well. The team, the atmosphere, and the value of knowledge you gain here is by far the best compared to all previous experiences I had."
"You can gain profitable, practical tech skills here in a relatively short time, which will bring you a high return in the long run."
You'll have one week to complete the steps, and we'll keep you posted about how you're doing and what's next at every stage. You'll get the final result of your application via email within 2 workdays after completing all the steps in the process. 
The application process is going to be in English since the language of IT is English too, and our courses are aligned with this.
Frequently Asked Questions