Azure SQL Engineer - support
Take part in a 3-week technical training for free, and secure your place in IT in the end with a job offered by our global partner LTI Mindtree.
Act fast because places are limited – only 15 people can participate and get a new job.
Application deadline: 26 May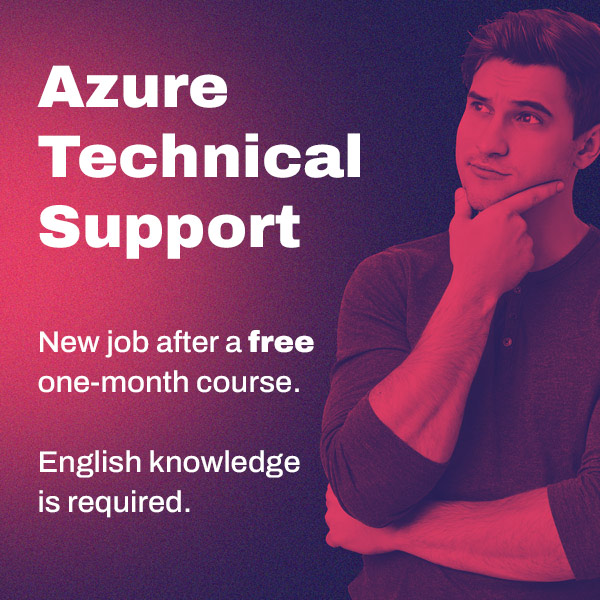 With our training you'll become an Azure SQL Engineer, an expert in Azure. You'll use your knowledge to support global customers of LTIMindtree.
Our 3-week-long, free training will prepare you for your new job.
You will document solutions and work with product groups to improve Microsoft products.
You will work with other developers to debug, improve code and help solve customer problems.
You will provide technical support in English in a 3-shift work system (bonus provided for night shifts and additional language skills)
In case you're from abroad and in need of formal or organizational assistance, you'll get support to be able to start the job.
We are offering you a unique opportunity for a stable job at a global company with great conditions. Enter the IT industry without years of studying and develop your skills even further while working for a global company!
We are looking for individuals with strong communication skills and advanced English who have some experience in SQL.
The starting base salary is PLN 7,500 gross per month
A fast career development and promotion path
Free subscriptions to all Microsoft Developer Tools with the full version of Visual Studio,
Financial subsidy from the company to obtain Microsoft certification
You'll work in a modern office in Krakow
If you finish the course, you can get an offer for a 3-month trial period at LTIMindtree. Afterward, the contract can be extended for indefinite employment.
Employee Capital Plans (PPK)
Private medical care for employees and their families at Lux Med
Reimbursement for glasses in the amount of 400 PLN
Guaranteed 26 days of paid leave per year
Access to the cafeteria system on the Worksmile platform worth PLN 175 per month
Attractive bonus for night shifts
Support in completing all formalities for foreigners
Life insurance
Bonuses for referrals
What you should bring to the job
Must have:
Experience with using and writing SQL
Knowledge of English
Good communication skills
Ability to learn
Positive attitude
Good teamwork skills
Nice to have:
General knowledge of a combination of the following MSFT technologies preferred: SQL Server, Windows Server, Failover Clustering, Hyper-V, T-SQL
Experience with SQL Azure or Windows Azure preferred.
Understanding of basic hardware concepts such as basic networking, hard drive troubleshooting, etc.
PowerShell basic programming skills
Knowledge of any other European languages will be an added advantage.
Apply now if you're interested!
The number of places is limited – we recruit 15 people for the course.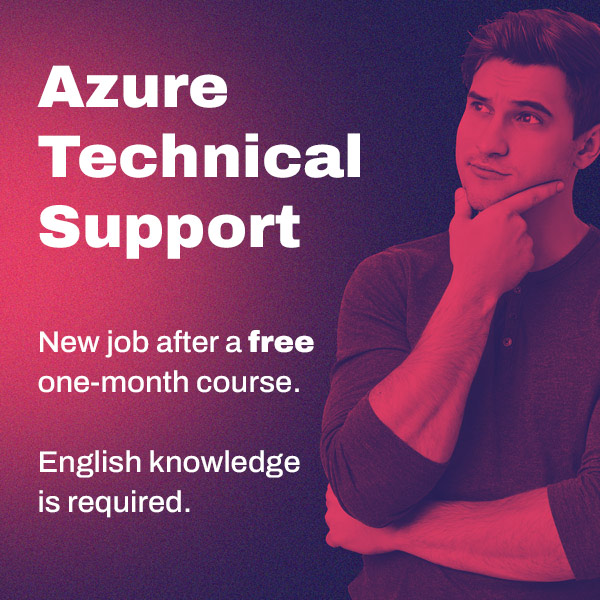 Check out what our graduates - already working at LTIMindtree - say about previous editions:​​
Codecool is a good way to start if you want to join your IT adventure. In the LTIMindtree as your final destination You will meet a lot of great and helpful people who will boost your knowledge and experience.
Codecool is a great opportunity to start your IT career as a cloud engineering. The course was interesting but could be more structured. I learned a lot of interesting things, but I learned more during the first training in my new job at LTIMindtree.
From my personal perspective, the course implemented by Codecool was a great opportunity to put first steps into the broad IT world. Thanks to a knowledgeable instructor and well-prepared set of exercises I was able to gain knowledge which allowed me to become a part of LTIMindtree where I can continue my journey to grow.
Codecool is a great opportunity to start your IT career as a developer of one of the fastest growing cloud services that is Azure. You can meet great people with similar mindset and together jump into LTIMindtree where you can continue your training and start working on more and more complex cases together in a team that is always ready to help.
What does the recruitment process look like?
We will ask you to provide your name, email address and phone number so that we can contact you.
Our recruiter(s) will contact you to set up a convenient time for a 20-minute one-on-one interview, during which, among other things, we will verify your communication skills in English.
A pre-course talk with a representative from LTIMindtree is a short talk with a person from LTIMindtree – on basic knowledge of the course topics (including Active Directory, Basic administration of Windows operating system, Windows, Office, etc.).
Based on the entire recruitment process, we decide whether you're qualified to start the course, and will share the results with you.
After successful recruitment, we will send you our contract, and after signing it…. Congratulations and welcome aboard!
Apply now if you're interested!
The number of places is limited – we recruit only 15 people for the course.
The course will be conducted in English.
Yes, it will be free of charge for everyone qualified for the course.
Yes, the course will be held in the form of online classes.
Yes, the course ends with a final exam, which is a prerequisite for moving on to the next stage – employment at LTIMindtree.
A successfully passed exam is  only a prerequisite. After the course is completed, the employment contract is signed by LTIMindtree with the candidate – it is LTIMindtree that makes the final decision in this regard.