For coders, being able to present well might not seem like the most important skill to develop. But being comfortable with public speaking is key to building a successful coding career. Check out why, and learn how we help our students with presentation skills training to help advance their careers.
For many, speaking in front of an audience is the stuff of nightmares. Sweaty palms, heart palpitations, and a frozen brain are some symptoms that can arise when public speaking is the task. Statistics say that being afraid of speaking publicly is more common than a fear of spiders, heights, and even death. Yes, you read that right. 
But situations where you have to express yourself in front of others are not going anywhere. Especially not if you have a developer career on your mind. So it's better to face this fear head-on. Let us show you how.
Glossophobia: a common fear
We're all bound to be interested in what others think of us, and how they perceive us. Especially when standing in front of an audience, trying to convey our thoughts and a clear message.
Glossophobia, the fear of public speaking, is one of the most common phobias. So if you're not a fan of giving presentations and raising your voice in front of people, know you're not alone. It's super common, and it can be improved.
Importance of public speaking in your career
If you can tackle public speaking and presentations, you can articulate a set of points to people you work with. Doesn't this sound like the essence of climbing up that ladder at work?
Being good at presenting will affect more areas of your career positively than you anticipate: for example, becoming comfortable with presenting will allow you to be more confident in interviews where the topics of your presentation are your own skills and experiences.
Plus, there's a direct link between becoming a leader and being a good communicator. But even for those who don't aim to snatch managerial positions: successful communication leads to better results, period.
Public speaking and software developers
You need good public speaking and presentation skills in almost every career path. And even though they're often perceived differently, developers must be great communicators. They network, collaborate, and present in front of people. They do collaborative problem-solving and work with several other specialists and teams daily.
So if you have a developer career on your mind, know that it takes more than coding and working with technologies. To be an outstanding developer, you need to have excellent soft skills, and communicating your ideas well in front of others is one of them.
How to improve public speaking the Codecool way
Our approach differs from many traditional IT education paths. It enables you to improve your soft skills too, not just the technical ones.
First and foremost, our method is more practice-based. This is especially good for improving soft skills like presentation skills, which you have to try repeatedly to build confidence.
Second, we place a lot of emphasis on cultivating a growth mindset. And when you practice a skill like public speaking – which can cause anxiety and stress – it's great to do it in a welcoming, accepting environment, where your initial mistakes are celebrated.
Now let's see some examples of how we enable our students to build confidence and experience with public speaking and presentations.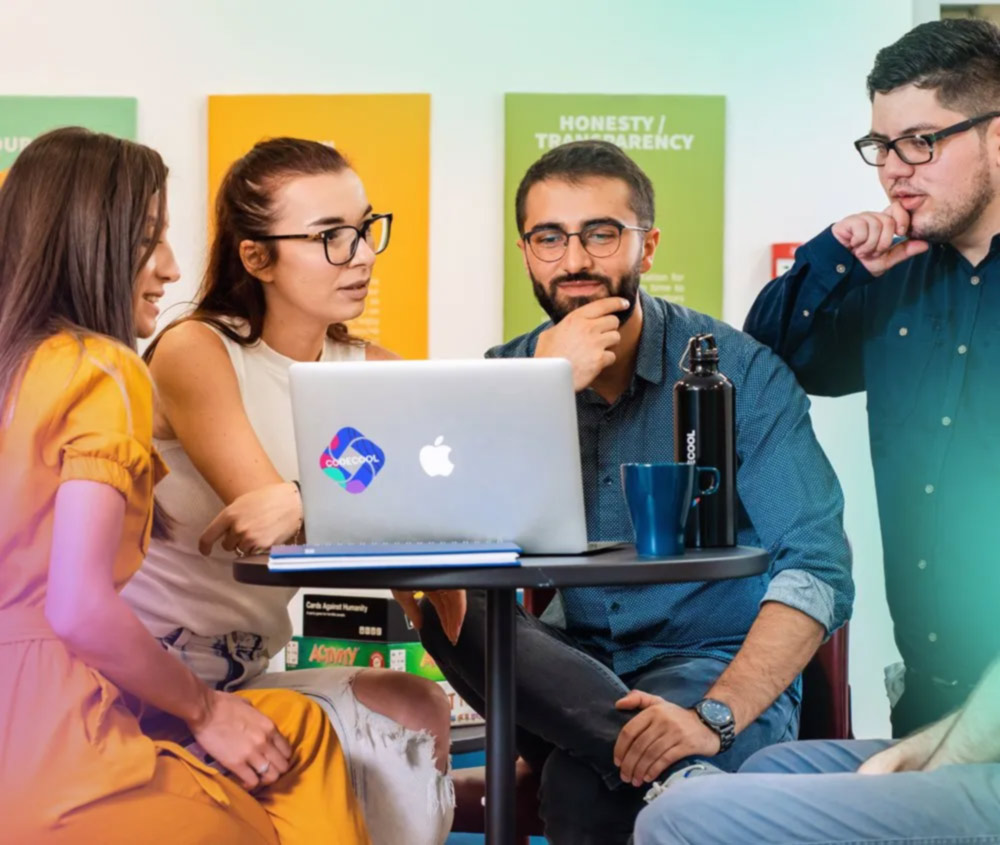 Workplace simulation
Since most companies do software development in an agile way now, we simulate an agile work environment. Why? 
Because this type of work involves a lot of collaborative work, brainstorming, communication, and presentations. And we know that learning by doing is the most effective way to gain routine.
So Codecoolers work on agile projects along with agile principles and an agile framework. This means daily meetings, retrospectives, brainstorms, and more. They even have to take the lead as Scrum Masters and ensure that the framework is followed well in their teams.
Code demos
Part of the workplace simulation is that Codecoolers do regular code demos, which are also key parts of sprints in agile software development. From time to time, real clients – representatives of our client companies – hop in to check how our Codecoolers did with their projects.
In agile software development, demos provide an opportunity for teams to get feedback on their product. After that, they can quickly respond by adjusting and course-correcting.
But in programmer training, they are amazing opportunities to practice presentation skills and to get comfortable with public speaking.
English skills
Speaking English is a prerequisite for joining our full-stack course. It's the language of IT at most of our hiring partner companies. And we want to simulate a natural work environment as much as possible.
However, speaking in front of others in another language can be even more challenging and stressful. So the project demos and most of the Full-Stack Development course are in English at Codecool.
They all provide an opportunity to practice English skills in a safe environment and prepare for future professional work and presentations in English.
---
Start a new coding career with us
If you want to learn to code and start a new tech career, we're here to help you make the first steps.
You can become a skilled software developer in 10 months. And you'll get a guaranteed job after you finish our Full-Stack Development Course if you go for our job guarantee!
Feel free to contact us with any questions via mail or chat. Or take a look at our events, where you can get to know our school and us better.
Hope to hear from you soon!